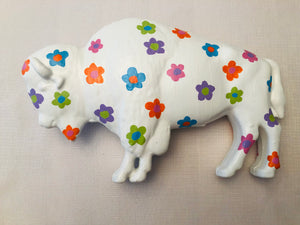 This Original Buffalo Lawn Ornament has been hand-painted white and covered with vibrant multicolored flowers. This one-of-a-kind item is the perfect addition to your lawn and garden that will always be in bloom. 
Measures approximately 14" long x 9" tall x 3" wide.
These are truly unique, and they are signed and numbered by the local artist.
Proceeds go directly to the local artist.
Please note - these are custom, hand painted buffalos. They have several layers of protective coating that includes UV protection. However, they may still chip or scratch outside in the elements. Some minor damage can be repaired, so if this happens to your buffalo, please email us a picture and we will do our best to help.