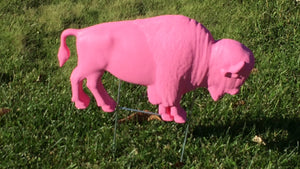 It's pink like a pink flamingo…but it's a Pink Buffalo! The Original Pink Buffalo Lawn Ornament was thought up in Buffalo, designed in Buffalo and will be produced just outside of Buffalo…even the box it comes in is from Buffalo.
There's a lot of Buffalo in this buffalo.
Thank you for backing our campaign on Indiegogo!
Price includes tax and shipping.