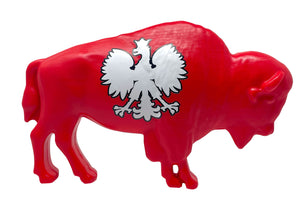 Show your true Buffalo Polish pride with a custom vinyl embellished Red Buffalo!
These beauties are have a custom Polish design printed on ultra tack material and laminated for weather resistance and durability.
::::::::::
Show your #buffalove and GO Red Buffalo! The Original Red Buffalo Lawn Ornament is for the Buffalo Football Fan, the Dyngus Day Fan, the Christmas and Valentine's Day fan. It's the right color for many Buffalo fans for a lot of reasons.
Whatever your reason is to like The Original Red Buffalo Lawn Ornament, know that like The Original Pink Buffalo Lawn Ornament, this buffalo is made locally and gives back to the community. A portion of the proceeds goes to the WNY Perinatal Bereavement Network and a local Polish charity.
There's a lot of Buffalo in this buffalo.
Approx. size:  16" x 9" x3"
✔ 3D LAWN ORNAMENT like a pink flamingo, but better

✔ Heavy-Duty Recyclable Plastic with Steel H-Stakes
✔ UV protected so they DO NOT FADE
✔ MADE IN THE USA
✔ IN STOCK, USUALLY SHIPS IN 24 HOURS
✔ 100% Satisfaction GUARANTEE
✔ 30-Day Hassle-Free Return Policy